Advertisement Photography Proposal Questions
Who is the client, or company you are representing?

 
I am representing Sony.  
What is the product?

 
The products are PlayStation 4s 
Who is the target audience?

 
The target audience are men and women of all ages who love to game. 
Where would you expect to see this advertisement?

 
I would expect to see something like this on a billboard. 
What camera will you use?

 
I would use a professional camera however right now all I have is my phone.  
What kind of lighting are you going to use to make this look professional?

 
I am using direct overhead lighting 
What props do you need?

 
I need two PS4 games and a controller 
Ways to Jumpstart Inspiration
  The tips I would actually go for are: 1, 5, 6, 7, 8, 12, 13, 20, 21, and 23. Tip one was going the movies for inspiration, I like it because movies are actually a great source of inspiration. Tip five looking at photoblogs, is great for your creative flow because you can look at work you want to produce. Tip six While I don't have CDs, I do have some vinyl's, looking through them could give me some inspiration. Tip seven, listening to my favorite music may take a while to trigger inspiration but I know it could be achieved. Tip eight, I think this commitment could push to actively look for inspiration. Tip twelve, I think this is such an easy task when looking for inspiration because there are only so many holidays. Tip thirteen, reproducing old art is a great way to find inspiration because it is very easy to find beauty in old artworks.  Tip twenty, painting in with light is very fun and relatively simple. Tip twenty-one, taking pictures at a family event is such a good thing for inspiration because usually there is so much going on. Finally tip twenty-three, trying to find a way to stretch a story into 5 pictures is challenging but interesting.  
Social Media Trends For Advertisement
     The 8 most must know trends for business marketing are as follows. Number 1, you must show your brand and its personality on TikTok and Instagram Reels so that you can appeal to all age demographics. Number 2, Even if you do use TikTok its important to remember that platforms like YouTube are still very popular. Number 3, Don't underestimate the capabilities of Insta stories, They have a wide variety of things that can boost your brand like polls. Number 4, Since Covid-19 has prevented a lot of contact, you must replace that lost face time with screen time. Number 5, branch out beyond your outlet and create a way for people to buy from you ONLINE! Number 6, having a strategy for content to post is key to engagement. Number 7, Just because you can write a lot on a post doesn't mean you should. Number 8, Make sure to always put people first because you want to remain authentic. If we are being honest, I think I would utilize numbers 2, 3, 7, and 8.  
Museum Art Critique
      As soon as I opened the link I was instantly drawn to this piece of art. I really really like it! It feels like a critique on the economic crash during Reagan's presidency. I also like how the people in the work look like vampires, it adds to the aesthetic. I like how the slogan "let them eat cake" goes back to France and their revolution based on an unfair economic system. I do like the sky and how ominous it looks. It adds to apocalyptic look. Finally, I like the abstractness of it all. If the proportions were the same the artwork wouldn't be as cool.  
Photography Job Hunting 
           The job that I liked was retail sales associate photographer job being offered by JCPenney. The job is to take portraits for JCPenney and work part time as a sales associate. I think I would be a good fit because I have a background in photography and sales. I have a background in photography from the time I have spent in this photography program. However, I have a history in sales form a job that I recently got. This job has enabled me to learn how to interact with customers of all types, from little kids to bitter old men. I also learned how to track my sales. So, I think I would be good for this job. However, there is just one problem. I don't have a diploma which they require.  
Canon Lens Experience Article Reviews
      The first article I read was about Jeremy Cowart. In this article it states that when Jeremy was getting started, he didn't really know what to do. All he knew was that he loved what he was doing. I find that inspiring because sometimes photography can be a little intimidating with all the technical info that lies underneath the beautiful shots. It was great to know that you can start out knowing nothing as long as you have any kind of lens. For a while I thought of photography as something that is akin to a job but the more that I'm learning about how people just dive into it without any sort of precautions makes me feel like it really is a passion. The second article I read was about Mike Lerner and his music photography. What inspires me about this type of photography is that they find art within art. While the last article made me feel a bit more comfortable photography this one did give me more information. it gives great advice about social networking and when to take pictures. 
A Photo From The List Of 100 Most Influential Photos
       The "Fire Escape Collapse", by Stanley Forman, depicts a young girl and her goddaughter falling. Unfortunately, Stanley Forman was able to freeze this moment in time. I say unfortunate because while yes, it is a great picture it is almost too terrible to look at. it makes me want to turn away. This photo disappoints me more than it makes me sad. This is because both individuals in the photo are very young. The girl being nineteen and her goddaughter being only two years old. While looking at this picture one can't help but assume the worst. It is also very disturbing to see a child in such danger. Focusing on woman is equally as awful because she is falling headfirst. I see this photo and I wonder how high up it is.      
       This picture and the Schrodinger's box it created for itself are terrible because the possible tragedies are endless. However, upon opening the box their fates were worse than I can imagine. After this photo was shot the young woman fell to her immediate death. What makes this worse is that her goddaughter fell atop her. While yes, the little girl survived, she landed on the corpse of her godmother. And that sounds like such a traumatic way to survive. Overall, this picture affected me the most because it disturbed, saddened, and terrified me all at once. 
Sandy Skoglund Critique
While researching Sandy Skogland's work I found out that she does not employ the use of things like Photoshop. What I mean is that all her affects all the vibrant colors are all captured on camera. It's really interesting to me because she doesn't go out and find a shot she has to make it completely from scratch. And she does this so amazingly. I really like that a lot of her work is quite cryptic and can be interpreted in many ways. For example the picture below reminds me of the series "Ratched" which follows a peculiar nurse. Overall I think that knowing of her creative process has made me appreciate her works more now that I know how much effort is truly going into them. It almost makes me feel guilty for not dyeing my grandmother's house in Mexico grey and painting her cat purple!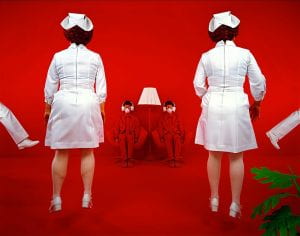 Wassily Kandinsky Critique
After seeing a large amount of his work I feel that I can't ever originally create something like this. When I look at his works I see madness. However behind that madness is genius. When I was trying to analyze his work I felt that to create his art he would create a scene in his head and then distort it. I tried to do that but I felt that I couldn't make mine as vague as his. I did try to do some crazy colors like his. Overall i really like his art. It feels like something that would be hanging in a 70s house.
Social Issue Writing 
Here is what you know. For a long time women in Mexico have been being murdered or kidnapped solely for the fact that they are a woman. According to an article I read cases of murder against women have increased in Mexico by 137%. This is incredibly alarming. Just make sure things are clear Femicide is the murder of women because they are women. It has been a federal crime since 2012. Yet it has not ceased. I wanted to touch this issue because I feel that it is very important. I feel it's important for me to recognize this issue as a Mexican man as well. I think it's important that I know of this issue so that I can talk about it with my male peers and try to work against the machismo mentality that is instilled in many Mexican men. My intentions in writing this are not to silence anybody or speak over them but to try to amplify voices that are literally and unfortunately dying to be heard. I have linked a resource below so that you can show your support to Mexican and Latin women.
https://www.change.org/p/andr%C3%A9s-manuel-l%C3%B3pez-obrador-stop-femicide-in-mexico

Why Is Photography Important To Me
           I feel that photography is important to me because it is, for me, one of the easiest mediums of art to be good at. I'm not trying to say that photography doesn't take skill or a good eye. However, I am trying to say that it is easier than most forms of art. There are so many things one can do it photography. It is that sense of freedom that it gives me that keep me doing it. Even after this class I feel that I will probably still do it but in a smaller scale. 
          I want to talk about a couple things that I thought the article was right about. I think that it is very true that knowing how to take photos allows you to see the world in a different way. I also didn't realize that photography really is so important to science. Unfortunately, one thing that I did forget about photography is that at the center of it we are simply collecting meaningful moments and beautiful scenery. this article makes me look at photography in a way that I didn't look at it before. I see it now as something that is an all aspects of life 
Critique Of Silver List Photographers 
Granville Carroll's work was my absolute favorite. I enjoyed Carroll's work because it is very heavenly. I'm a very big fan of things that can't really be explained at the stars and things like that, so Carroll's work really stuck with me. I think I can say that this is the first photographer that I enjoy that does not only shoot landscape. Overall I've really loved the atmosphere when is engulfed in when you open their website. I think they did a great job with the website because it is all laid out and it's really easy to find whatever you're looking for. I also really love the names that they chose for their Gallery pages. Picture below is just one example of their amazing work.  
      The second photographer I really enjoyed was Leonard Suryajaya. I like his work because it challenges me. It makes me want to look at the image and analyze it to see if I can find something that is comprehensible. However, it also intrigues me because often a lot of his photos resemble medieval art pieces. Not to mention that the colors are so bright. Overall, I really think he has amazing and beautiful work but there is one thing I don't like. I just feel that the website could have been formatted a little bit better. I say this because it took me awhile to be able to find some of his work. 
Shopping Spree
What I bought :
Sony Alpha A6000 mirrorless digital camera with 16-50 millimeters and 55-21 millimeter lenses with accessory kit (Black) 698.00
Apple 13.3" Macbook Pro 1,699.00
DJI Air 2 Fly More Combo 988.00
Pelican 1495 Laptop computer case with foam 185.95
I chose all these things with the thought that I would be a landscape photographer in mind. After some research these are the things that I think I would need. I chose the Sony Alpha A6000 because in was praised for how good it works with landscape photography. I chose a Mac book because I feel that those are very is reuse and I'm going to need a very thin computer for on the go projects. I chose a a drone because a lot of the great landscape shots are shot with drones. I also got a laptop case for the MacBook. The grand total of this little spree was 3570 dollars.
READ AND REFLECT
Is photography the greatest job in the world? I wanna say yes and no. I feel that photography certainly is an amazing career choice but it is a very risky one. The article also glossed over all the hard things you have to do before coming up photographer. While many wish it was, it's not as simple as picking up a camera. To be a professional photographer you have to learn about marketing, how to set up a website, how to establish yourself etc. What the article did have right is that being a photographer is an immense amount of freedom. That is one thing that I really like about any career is freedom. deciding what jobs to take, deciding what my focus will be, working on the days that I only want to work yes that all sounds like a dream but it comes at a price. That price is instability, and that is something that I don't know if I would want to live with. I always want to be sure that I have a certain source of income. So yes and no, photography is but at the same time is not the greatest job in the world.